1,880 homes are released by URA and HDB, including EC in Tampines
.
URA and HDB have released three sites for sale at Dairy Farm Road, Sims Drive and Tampines Avenue 10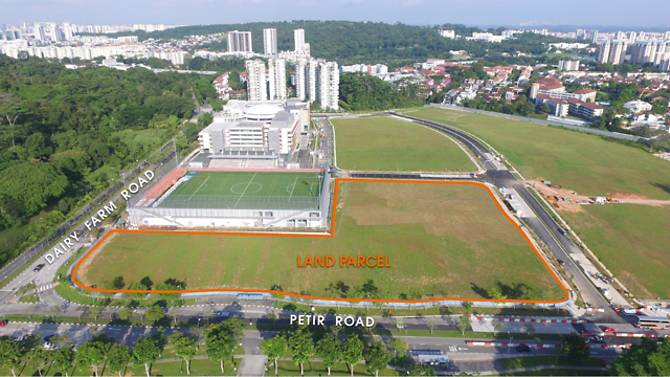 Aerial view of land parcel at Dairy Farm Road released by the Urban Redevelopment Authority. (Image: URA)
Three sites for sale at Dairy Farm Road, Sims Drive and Tampines Avenue 10 were released by The Urban Redevelopment Authority (URA) and Housing and Development Board (HDB). In a press release on Thursday (May 31), authorities said that: The URA site at Dairy Farm Road, under the Confirmed List, is for residential development with commercial use at the first storey. The site at Sims Drive is for residential purposes and the site at Tampines Avenue 10 is slated for an HDB executive condominium.
The 99-year leasehold can yield a total of about 1,880 residential units, with about 500 housing units at Dairy Farm Road, 680 at Sims Drive and up to 700 at Tampines Avenue 10.
Opposite Dairy Farm Nature Park is the Dairy Farm Road land parcel. It is more than 19,000 sq m in size and has a permissible gross floor area (GFA) of about 41,000 sq m. The real estate firm JLL said it is expected to attract "a healthy level of competition" from developers because of its location, near the Hillview MRT station and easy access to the Pan Island Expressway and Bukit Timah Expressway.
JLL's head of research and consultancy, Tay Huey Ying also said "Homes on this land parcel will enjoy good rental demand from expatriates as it is sited just adjacent to the soon-to-be completed international school (the German European School Singapore),"
It is also "timely" to set aside space for commercial use on the first floor to support the growing residential population, noted Colliers International's head of research for Singapore Tricia Song. At noon on Sep 4, the tender for the Dairy Farm Road site will close.
SIMS DRIVE AND TAMPINES
Under the Reserve List, applications for the other two sites are available. It means that developers can trigger a tender for the sites if they indicate interest at a minimum price that is accepted by the Government. Both the Sims Drive and Tampines site to be triggered for sale, property analysts expect that.
Located near the Sims Vista market and hawker centre is The Sim Drive Site, which measures about 16,000sq m and has an estimated GFA of about 48,000 sq m. On the other hand, The Tampines EC site is located near an international school, as well as other HDB blocks and condominiums. The site area is about 25,000 sq m and it has a maximum GFA of close to 70,000 sq m.
The Tampines land parcel holds "high potential" to be triggered for sale, said JLL's Ms Tay. She also noted that: "Developers' hunger for EC sites is evident in the 17 bids and record-breaking top bid attracted by the Sumang Walk EC GLS site when the tender closed in February 2018. "
Colliers' Ms Song added: "Should it be put up for sale, we believe there will be stiff competition for it and could potentially fetch S$360 million (or S$480 psf ppr). This would be lower than the record psf price of S$583 psf ppr for the Sumang Walk EC recently, but will still be the second highest for an EC site."
Adapted from Channelnewasia, May 31, 2018
---